---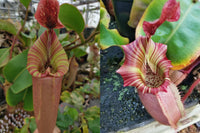 Nepenthes (Song of Melancholy x veitchii) #6 x veitchii "Candy Red" should produce some simply incredible offspring.  We're releasing only a few pods of this cross in hopes that we can get these amazing genetics around the world.  Make sure to keep us updated with photos as they mature.  These should be very special. 
Each pod usually contains 25-50 seeds.  We can't guarantee germination since we have never grown this cross out but we have inspected all pods and they have obviously viable-looking embryos.

Nepenthes seeds are best sown on a layer of milled sphagnum moss or well leached coco peat above a more traditional Nepenthes mix.  They should be kept in a moderately well lit area (50-100 ppfd).  The seeds need to be kept wet and humid in the 60-80 temperature range and will usually germinate in 4-8 weeks.  
Seed was harvested in March 2023.