---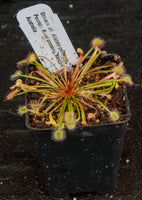 The petiolaris complex group of sundews are some of the most interesting of genus.  Drosera dilato-petiolaris is a beautiful species with with narrow petioles and circular traps. The pre-fix "aff" in botany refers to a plant that is closely related or has an affinity to another species but may not fit the type description exactly.  There's a wide range of variability from population to population in the petiolaris complex. 
The plants are from the Northern Territory in Australia and prefer hot temperatures, lots of light and high humidity.  In their habitat they experience 6 months of dry dormancy and 6 months of wet growing season; however, we have found that if kept wet they will grow year around.  We recommend growing all petiolaris complex drosera in a mix of half peat to half perlite.  They should be kept warm (over 70 degrees) and the photoperiod should be kept at a constant 12-14 hours.  If exposed to a longer photoperiod, dormancy may be induced. This product is considered a Lowland Tropical plant.  Please see our Shipping and Guarantees policy for cold/hot weather shipping guidelines.

Most of our products come with multiple shipping options.  For those that are unpotted, you can add Pots and Soil or Hanging Baskets a la carte.