---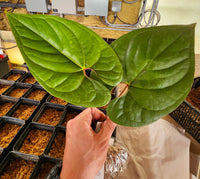 Anthurium aff. debilis Silver is a new variety that has recently been discovered.  It's likely an undescribed species.   This one has a bullate texture and becomes bright silver in low light.  It is really unique amongst Anthuriums.  
This product is considered an Intermediate Tropical plant.  Please see our Aroid Shipping guidelines and Shipping and Guarantees policy.
Most of our products come with multiple shipping options.  For those that are unpotted, you can add Pots and Soil a la carte.