---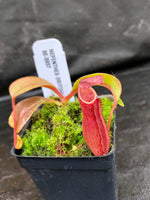 A new hybrid coming out of Borneo Exotics.  These individuals are all seed grown.  So far they seem to get deep red coloration and the woody pitcher texture with striped peristome from the veitchii x lowii parent.
This product is considered a Highland Tropical plant.  Please see our Shipping and Guarantees policy for cold/hot weather shipping guidelines.
Most of our products come with multiple shipping options.  For those that are unpotted, you can add Pots and Soil or Hanging Baskets a la carte.