---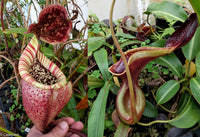 Nepenthes burbidgeae x lowii.  This is a rare natural hybrid that was produced horticulturally in Europe.  Expect the incredible coloration and shape of Nepenthes lowii and burbidgeae to shine through.
This product is considered a Highland Tropical plant.  Please see our Shipping and Guarantees policy for cold/hot weather shipping guidelines.
Most of our products come with multiple shipping options.  For those that are unpotted, you can add Pots and Soil or Hanging Baskets a la carte.