---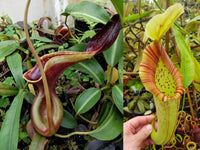 We expect some spectacular plants coming from this cross.  Another grex of the same cross was made by EP years ago and those plants turned out beautifully striped and vigorous. 
Plants are seed grown so each individual is unique.
This product is considered a Intermediate Tropical plant.  Please see our Shipping and Guarantees policy for cold/hot weather shipping guidelines.
Most of our products come with multiple shipping options.  For those that are unpotted, you can add Pots and Soil or Hanging Baskets a la carte.